Posts Tagged 'Soft on Crime'
In part 1 I listed a number of ways that Democrat District and City Attorneys in the USA have contributed to the crime wave in the USA.
These are the key factors – and remember that this does not even touch the anti-Police actions. These are simply the factors controlled by the DA's and CA's in Democrat-controlled cities
Reduced thresholds for laying charges.
Quality of Life crimes ignored.
Gun "Control".
Bail Reform.
Dropping charges
Releasing prisoners and Reduced Sentences
I covered the first three in Part 1, so here are the other three.
Remember as you read these, that most of this is coming to NZ via the current Labour government.
Bail Reform
The elimination of cash bail has been done on the basis that it discriminates against poorer defendants: New York, Seattle & Portland, Los Angeles, San Francisco and Chicago. That last is actually a study of the effects on crime in Chicago: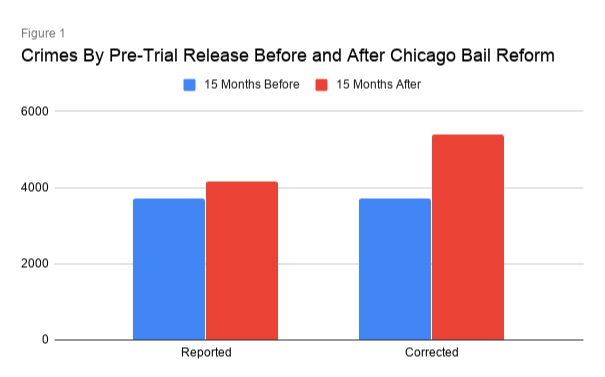 No similar studies have been done for those other cities but there's no reason to think they'd be different.
The most recent egregious example is the case of Darrell Brooks, Jr., the guy who killed six people and wounded at least 40 others at a Christmas street parade in Waukesha, Wisconsin, by running them over in his car. The man had been released on $1,000 bail after running over his girlfriend, just three weeks earlier and had a rap sheet as long as both your arms.
Dropping charges
The most egregious example in recent times were the incredible number of charges dropped against Antifa/BLM rioters in 2020, Portland being Ground Zero in the practice:
Most of the 550 cases since rioting began on May 29 will be dropped. Out of those numbers, 140 of them were for felonies including assault, arson, riot and theft. Only 45 of those felonies have so far been charged, with many of the rest likely being dropped and others being reviewed.
But these actions apply to a wider group of criminals than Antifa/BLM. Chicago again:
…Foxx declined to approve felony charges in another chilling incident in Chicago's gang-infested Austin neighborhood. On October 1, a carload of Four Corner Hustlers confronted and opened fire on a rival faction on the 1200 block of North Mason. Caught on film, the brief gun battle between members of the two competing wings of the gang ended with one the attackers dead and two others injured. This exchange of gunfire unfolded right in front of Chicago police officers.
Same in Los Angeles and San Francisco where one such was notably awful even for DA Boudin:
[Boudin] dropped domestic violence charges twice on suspect before he killed a baby… Boudin has reportedly dismissed cases against 113 out of 131 people arrested for felony domestic violence in the last three months of 2020.
Releasing prisoners and Reduced Sentences
There was a terrible example of this just recently in Fairfax County, Virginia:
Judge Randy Bellows has rejected a Descano plea deal. In this one, a man indicted for raping a girl four times during a period in which she was in fifth-through-seventh grade would have received only a three-year prison sentence.
…
Unfortunately, this case is almost certainly the tip of Descano's leniency iceberg. Conscientious Fairfax County judges like Bellows won't be able to correct ultra-lenient policies and practices that lurk below the surface.
In Chicago prisoners are going to be released in order to achieve "equitable incarceration" for BIPOC (Black, Indigenous, and People of Color), meaning jail time in proportion to their makeup in the general Chicago population, thus tackling the "systemic racism" of the system:
Thanks to Hey Jackass, we know that as of Nov. 15, roughly 80 percent (67) of identified assailants in 2021 Chicago homicides are black, 15 percent (13) are Hispanic and 5 percent (4) are white*. Now contrast this with Chicago's general population demographics in which 29 percent is black, 17.3 percent Hispanic and 33.5 percent white.
…
If my math is correct, we'll need to tip the black-white incarceration ratio by 500 percent to achieve equity as part of this new diversity and inclusion program as we work together to dismantle systematic racism.
The author has some suggestions to widen this effort, including increasing the percentage of White prisoners via:
Any Northside resident who uses the phrase "looting" to describe equitable retail wealth redistribution
Anyone who describes an act of a black person driving into a white crowd in Waukesha as a hate crime
Anyone who does not believe that Kyle Rittenhouse is a white supremacist
In San Francisco in 2020, Boudin released 40% of prison inmates during the Covid-19 pandemic. He claims that his office "looked closely" and asked of each inmate, "Do they really need to be incarcerated?". Same in Los Angeles (1700 "non-violent" prisoners or 6%), New York (1,500 or 20%), and Seattle.
While the Covid-19 pandemic was the reason given it was a timely excuse for what these authorities had been wanting to do anyway.
Then there's the matter of criminals never seeing the inside of a prison in the first place. The following is typical and there have been hundreds like this across the big (and small) Democrat cities.
The District Attorney's who make this all possible
All of this is down to District Attorneys like Boudin in SF, Gascon in LA and Foxx in Chicago, Mike Schmidt in Portland (who admitted he was an old buddy of a prominent Antifa militant).
The Initiative describes a neighborhood needle exchange program degenerating into "human waste in neighbors' yards, a large vehicle hosting drug deals in the parking lot of the exchange, heroin users shooting up and passing out and then driving off intoxicated, people urinating and defecating in public, clients shooting up in neighbors' yards, even having sex on a neighbor's front porch."

It's no wonder that Portland's formerly hot housing market is cooling off and home values are falling. As housing prices increase, not everyone wants to pay record prices to live next to a needle exchange.

The escape from Portland has begun.
One of the incredible aspects to the DA story is that after fucking up San Francisco, the DA, Gascon, decamped a little further south to Los Angeles, where he proceeded to do the same things:
It didn't take long for Gascón to make enemies and for his policies to offend. Even one of his own deputy DAs couldn't stomach this boss's preference for lightening the burden on the criminal's back and publicly rebuked his superior. The prosecutor says Gascón should never have ruled out the death penalty in the case of a woman and her boyfriend accused of torturing and murdering a 10-year-old boy. "This is not based upon new evidence," Deputy District Attorney Jonathan Hatami said, according to the City News Service. "This is not based upon new mitigation or new law. I stand by the special-circumstances committee decision that I announced to the court on the record two years ago."
Even more amazing perhaps is the DA that the people of San Francisco elected in 2019 to take Gascon's place, Chesa Boudin, the son of the 1960's Far Left terrorists David Gilbert and Kathy Boudin. By 2021 there were regrets:
The San Francisco government has abdicated on that responsibility. It is focused on equity & "justice" at the expense of fulfilling its basic duties. Fee caps, school renaming, criminal justice experiments, public banks, red tape, corruption… the list goes on.

My whole life I've considered myself a proud liberal, progressive San Francisco Democrat. Today I am ashamed of my city. I see smug ignorance of the laws of unintended consequences. Moral grandstanding winning over data, logic, and facts.

This is not how an American city should look and feel. I feel like I'm on the brink of being red-pilled. How can I not, when our policies are so aligned with the radical left?
But you don't need to see those figures to feel what that San Francisco women feels"
And it isn't about metrics. Nobody is saying we are "X% up" in this category. It's how they feel walking the streets. It's walking a stroller next to a tent that has a pile of bikes next to it. It's being screamed at or chased by someone who seems mentally unstable.
…
Anecdotally, every single one of my friends right now is considering leaving SF (and frankly, myself included). The biggest driver is no longer cost of living. It's crime. My friends are scared for their children, and their husbands are scared for their wives
I can't say I'm too impressed by all these people escaping these Democrat-controlled cities when they voted these people in, repeatedly. Have they actually learned anything or will they screw up the next state or city they land in?